Pitchfork went at music bloggers this morning: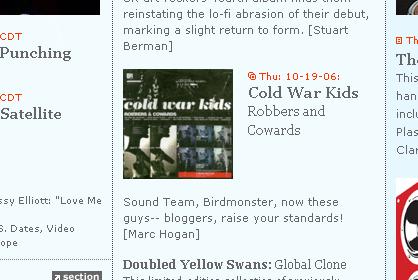 Zing!
I have no love for the Cold War Kids, but, man, that's so petty and childish. It doesn't even mention what kind of music it is, let alone if it's good or not!
2 Responses to "Oh slam!"
andy (not andyl) Says:
October 19th, 2006 at 3:13 pm

Wait just one second!@ Pitchfork wrote a review of questionable quality? AND they're acting anti-ethically? Color me shocked. I'm almost as surprised as when they didn't like the new David Bazan record…

adrian Says:
October 19th, 2006 at 4:05 pm

Usually they at least pretend like it's a good review.
Leave a Reply