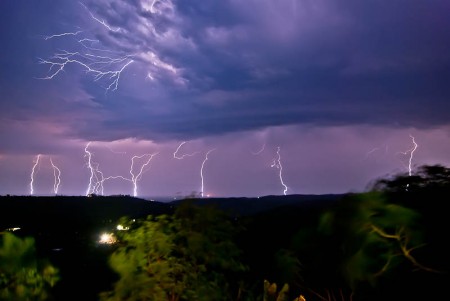 It's been storming here recently. I don't love the rain, but it's good for the town because it's been very dry and there are water problems. And it keeps the temperature down—Monday, the one sunny day this week, was in the 90s.
I'm living in a rondavel on the grounds of the educational NGO that I'm working at. I live alone…except for a lot of ants and a number of lizards and geckos.
I was awakened very early in the morning one day this week. During the heavy rains this week, the rondavel's ceiling started leaking onto my bed. Of all the places in the rondavel the leak was dripping close enough to my pillow that I could feel the splash on my face. (I moved the bed and put a bucket there. The handyman came later that day.)
I've noticed a change in Ingwavuma since my first visit in 2007 and even last year: there's quite a bit more relative wealth here. There are still many living in abject poverty but I've notice more new houses and new cars and nice clothes since last time.
For the first time since it was built (I'd guess 5-8 years ago), the rondavel has been hooked up to running water. It's only cold water, but a flush toilet and a (cold) running water shower is a big step up from carrying water up the hill 25L at a time. A huge step, in fact.
I haven't had any adventure weekends yet but I'm thinking about some of the following in coming weeks: Mozambique beach town, Kosi Bay or Sodwana on the coast in South Africa, Swaziland, and Tembe Elephant Park. This weekend some people and I drove half an hour to watch the Currie Cup semi-finals. My team won their match handily so they'll be in the final in two weeks time.
Next weekend, though, I'll be camping in Ndumo Game Reserve with some family friends.
There hasn't been a lot of work for me on the radio project yet so I've started doing some tutoring a few afternoons a week to help students in their final year of high school get ready for matric exams in November. My first day was Thursday and I was honestly shocked at how difficult the example questions were–at least given that I hadn't touched a lot of the calculus in ten years. But it all started coming back to me pretty quickly.
One thing I love about weekends in Ingwavuma is that after people hand-wash their laundry, they hang it to dry. And because there isn't really enough time to wash during the week, it's always done on the weekend. So if you look around on the weekend you seen multi-colored lines waving in the wind all over the place.
Leave a Reply