Victoria Falls
I still haven't written much about my trip to Zimbabwe. It's been a busy couple weeks here.
The falls themselves are still magnificent (I saw them in 1998 as well). The water was coming so hard now, though, that it was hard to see them through the mist in places.
—

muscle car, vic falls
Strangely enough, there are a number of vintage cars in the town. I wish I'd caught more of them, but this is a great one.
—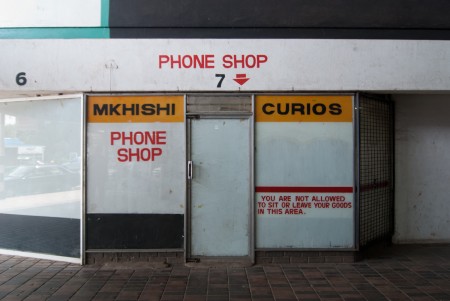 phone shop, vic falls
—

high tea at Victoria Falls Hotel
I stayed at the famous British colonial opulence of the Victoria Falls Hotel in 1998 when I was traveling on someone else's dollar but now that I'm on my own, I stayed at somewhere a bit more price conscious. I still went to the hotel for their afternoon high tea, though, which was lovely. It makes you feel like you should be wearing a khaki safari suit while chatting to Dr. Livingston.
—
Speaking of dollars, the Zim dollar is not a legal currency anymore—businesses can accept US Dollars, SA Rand, Botswanan Pula and possibly some other currencies, but the default is the US Dollar. It's quite strange to be in a sub-tropical rural African town spending US Dollars.
Since the Zim dollars went out of circulation, street merchants sell the bills, particularly the high value ones. I now own a 50 Trillion Dollar note. Yes, you're correct in thinking a bill with a five followed by thirteen zeros looks ridiculous.
—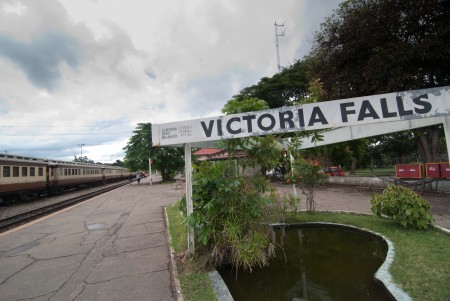 Victoria Falls train station
—
Possibly my least favorite part of Victoria Falls was all the tourists and particularly Americans, who seemed to do a particularly good job of embarrassing our nation.
On the plane there, I saw multiple Americans wearing all khaki, including vests and safari hats. On a British Airways 737. This is not 19th century colonialism, Americans. You can wear regular clothes.
Another particularly embarrassing instance was at a restaurant that served local-flavored dishes. One of them had a description that read: "A Shona dish with dried meat in peanut butter sauce." Someone asked the waiter "What's Shona? Beef?" Pro tip: learn the barest essentials about the country before you travel to it.
—
In the town of Victoria Falls, I was told not to walk around at night, not because of crime. The reason: elephants. As if to prove this advice was sound, one evening two elephant walked right by the entrance to the hostel I was staying.
—

elephant in the Victoria Falls National Park
On the morning of the day I left, I went on a horse ride through a wilderness area. We saw some elephant, who asserted their territory quite strongly, which was a bit exhilarating. We also managed to get very close to some bushbuck and warthog, apparently because they saw us as other animals rather than humans.
—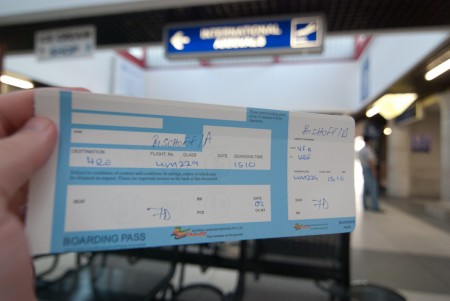 handwritten boarding pass for Air Zim
I was on British Airways to and from Zimbabwe, but to get from Victoria Falls to Harare, where I was headed for a family wedding, I flew Air Zimbabwe. The first signs that it may be an interesting experience was that when I went to check in, they looked up my name on a print out and crossed it off. They then hand wrote out my boarding pass.
—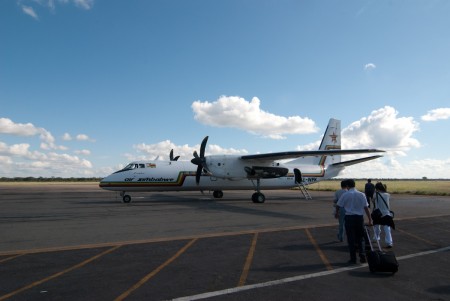 Air Zim turbo prop
I've flown a lot of regional airlines in at least four continents but it's been probably 15 years since I've flown on a turbo prop. The whole experience was interesting for a few reasons:
1) Turbo props are loud and shake a lot. I rarely feel the urge to drink on flights but I took the wine they offered on this flight.
2) When I booked, they told me the flight time was a bit under two hours. I checked in at the sign that said "Harare" and waited in the boarding area for the only plane on the tarmac. I boarded with everyone else for the only plane on the tarmac. So on the flight, I was in a near panic when they said "This is the flight to Bulawayo." Another passenger quickly assured me that it was going to Harare after a stop in Bulawayo. But there was no way that the flight could make it to Bulawayo and then Harare in two hours. We ended up in Harare an hour late and I very nearly missed my shuttle to the wedding because of it.
3) Tiny chunks of dry ice fell out of the ceiling onto me during the flight. I thought they were paint chunks but when I brushed them off they were really cold. I suppose the insulation was going up there and CO2 is the first gas to liquify or freeze.
—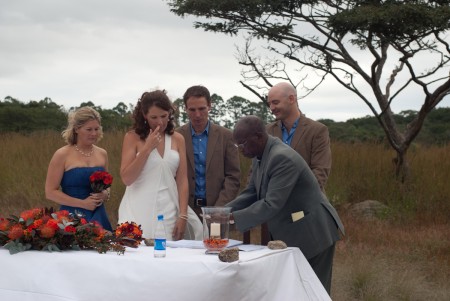 the bride and groom signing the registry
My second cousin's bride's family is from Zimbabwe and her mother lives and works at a private school about an hour outside Harare, outside the small town of Marondera. There isn't a lot of accommodation so all the guests stayed in the dorms (while the students were on holiday) and ate at the school. With guests from five continents, it was an interesting occasion.
—
The wedding itself was pretty spectacular. The wedding was in a small game park that the school owned; driving to the site of the wedding we saw wildebeest and zebra; apparently giraffe were right there during the rehearsal.
Perched on a large rock surrounded by those typical African wind-swept trees and with an amazing view over the park, the bride was marched in by a marimba band from a local school. We sat on hay bails as a local school's choir sang the hymns and the ceremony beautifully unfolded before us.
The reception was on the rugby field back at the school. There was some eating, some drinking, some dancing, some chumming around with family and strangers alike.
—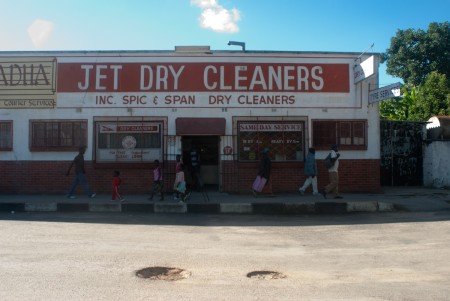 jet dry cleaners, marondera
The day after the wedding, there were some braais and general relaxing. I went into town for an hour to look around and take some photos. It was bigger than I thought it'd be but it was still, in many ways, a typical rural African town.
—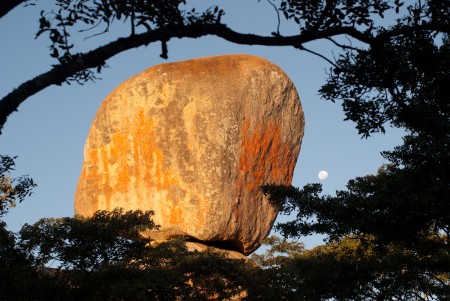 a rock and the moon in Gosho Park
I finished off the trip with a quick track back into the game park. I saw a couple animals, but one of the more striking features were the teetering rocks perched around the park.
—
All in all a fantastic trip.
2 Responses to "zim"
Scott Says:
May 14th, 2010 at 3:07 pm

Great photos! I'm jealous of your travels.

adrian Says:
May 16th, 2010 at 4:24 am

Thanks, Scott. I'm trying to take advantage of the opportunities I have.
Leave a Reply