When you're not working, any weekend can be a three day weekend[1]. I decided this would be in–Saturday through Monday. It was a good one. Really good.

three girls in Khayelitsha
Saturday
Saturday I did not expect. A friend of a friend asked me to help with a podcast that she helps with at a school in Khayelitsha. (She wanted my help because of all my experience in radio.) I helped with it; that was pretty good but rather straight forward. Then, it turns out, one students' mom was performing a sangoma ceremony so we went as unannounced (but invited) guests. I'd been to a sangoma ceremony before on a township tour, but that this was genuine–that it was not done for tourists was special. Twenty, thirty people packed into a tiny house watching, singing, clapping, dancing during the ceremony.
After that, a kid of my parents' friends was having a birthday party and I went. I met some cool people, chatted, had a couple drinks and some good food. I may have someone to watch some NFL with and some other people to play pub trivia with now, so that's good.

Cape Town CBD plus Green Point (stadium, in construction, at left)
Sunday
Sunday was clear–crystal clear blue skies–and warm for the first time in a while, so that meant going up Table Mountain by foot. After parking mid-morning, it was a beautiful but strenuous hike up. It's just about straight up for 3km straight. There are more stairs (made of rocks) than switchbacks and it's step after step, one foot in front of the others. At the top it was gorgeous, as always, but I think some of the best parts are on the hike up. I meant to take the cable way down, but the high winds forced its closure for the day, so hiking back down was the option and that's what I did. I still ache…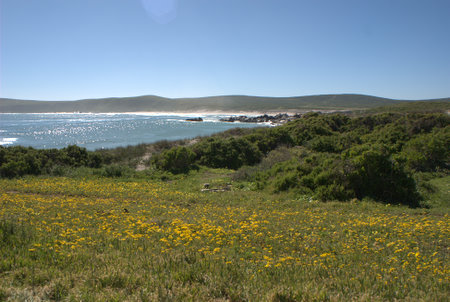 the Atlantic plus wildflowers
Monday
Monday I went to the Postberg peninsula in the West Coast National Park[2] to see the wild flowers. The trip up there was wonderful: the R27–the West Coast Road as they call it–goes from city to nothing very quickly. It's a dead straight shot with no buildings and nothing but plains and a glimpse of the ocean for most of it.
The national park itself is fairly plain, but it has nice unspoiled beaches and lagoons. The peninsula was filled abundantly with wildflowers of yellows, whites, oranges and purples. It was really beautiful and worth the day trip.
I didn't really plan for a three day weekend or really any of this, but that's how it turned out. Pretty nice, I have to say.
[1] It could be argued that it's always the weekend in such cases, but I feel like that would require always doing weekend activities.
[2] Can you believe I got a card that will get me into every national park for a year for ~$30?? Ridiculous!
2 Responses to "three day weekend"
Tarq Says:
August 26th, 2009 at 8:32 am

Is that a world cup stadium? I'm jealous that you might be there during the World Cup.

adrian Says:
August 26th, 2009 at 10:16 am

Yeah, Green Point Stadium is one of ten stadiums that will be used and the only one in Cape Town. It replaces the old Green Point Stadium which was at the same location.
Leave a Reply