I've been up to everything and nothing over the past few days.
With opening a bank account last week, logistical issues haven't been as much of a constant concern. There's still plenty up in the air, to be sure.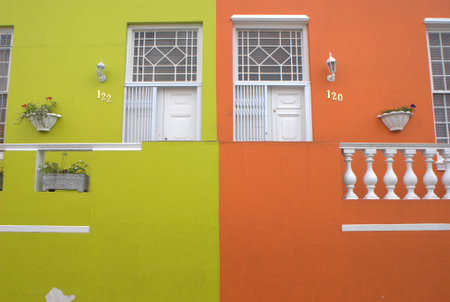 Colorful houses in Bo Kaap
I've been trying to decide where in the city to live. I've taken to walking around all the different neighborhoods I was thinking of living in: Gardens, Tamboerskloof, Bo Kaap, De Waterkant, Green Point, Sea Point, Woodstock, Observatory. I'm mostly concentrating on Gardens, Tamboerskloof and Sea Point now, but I've been meaning to take another look at Woodstock. Here's a map that shows the different areas of town, if you're curious.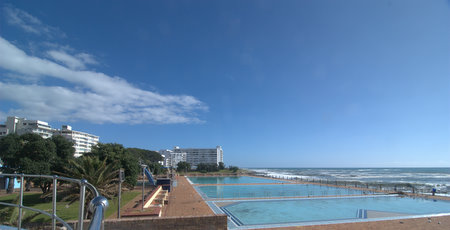 the Sea Point pool and Atlantic Ocean
Driving around has been a bit of a challenge. The left-hand driving isn't hard, but the roads are narrow and winding and one-way streets abound. In perhaps the most extreme case of it since Pittsburgh, I think Cape Town is really a city you need to drive around a lot before you know how to get around. I know the arteries and areas so I can get close to where I want to go, but once I get close, wrong turns seem to have some odd attraction to me. The sign posting also leaves a lot to be desired.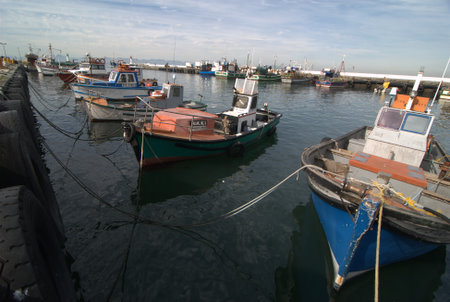 Boats in Kalk Bay, False Bay
I spent a little bit of Friday and most of Saturday down on the False Bay side of things. The towns there have a lot of charm to them. Little fishing harbors, that despite expectations of being tourist traps are still genuine fishing harbors, and towns nestled between the mountains and the sea. Kalk Bay has quite of bit of charm to it and has at least a couple great restaurants. Saturday, I spent with a family friend down in Simon's Town. Drinking rooibos on the porch overlooking the naval base and bay while the sunset was nice. So peaceful.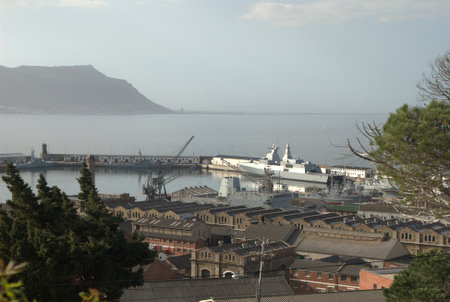 The naval shipyard in Simon's Town
While down there, the friend also drove me around that end of the Cape Peninsula. We stopped at a place called Imhoff, which probably started as a trading post/ farm shop, but has since added camel rides, a nursery, a snake zoo, and recycling center. We went to the snake zoo–wow there were a lot of snakes there and plenty of them were highly venomous. Pretty cool, but every time you came across a cage without a snake, you sort of checked around your feet to make sure it hadn't escaped. Imhoff reminded me of the places you find in the West of the US on secondary highways–tourist stops that keep added unrelated attractions and businesses to try to get people to stop.
I figured out how to turn on the radio in the old beast of a car I've been driving and I kind of like radio here. I'll just turn the knob till I find something interesting. A couple days ago I listened to about fifteen minutes of Islamic sing-chanting, which is something I was introduced to in a world music class and have only really heard one other time, in Jakarta. I have a bit of a soft spot for the heavily Muslim Cape Malays, who were probably the target audience for this broadcast. Yesterday I listened to some Indian ragas on the radio. They were pretty traditional and wonderful and even included some shehnai or the South Indian equivalent.
Some people answer phones here funny, giving the phone number first. "Eight two four eight one six two, hello!" I haven't noticed this widely but at least a few families do it. I suppose it helps let the caller know if they've dialed the wrong number immediately.
Leave a Reply