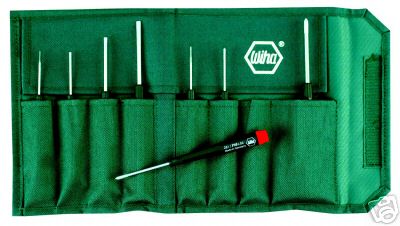 I was just using these and I was thinking, these have to be the best screwdrivers on the planet. They're a Wiha precision screwdriver set. They feel nice, they work really well, and they're robust.
I first used them at work, but I got a set of my own as a present a couple years ago. I appreciate them every time I use them. Yes, I'm this excited about screwdrivers.
2 Responses to "products I use: wiha screwdrivers"
Colin Says:
February 13th, 2009 at 3:42 pm

Your endorsement of these is actually really useful to me. I need a very small hex bit and found some made by Wiha but I didn't know how their quality was. Now I know.

Scott Says:
February 13th, 2009 at 3:44 pm

Yup, those are the best!
Leave a Reply