I'm in Johannesburg now. Jo'burg, Joeys or Jozi.
—
I came up to the high country to go to a couple US America soccer games. I went to the US-Slovenia game on Friday. Even though I had the cheapest class of tickets for the game at Ellis Park, somehow I had great seats. See my view above.
I think America should have won with a botched call from the ref disallowing the would-be winning goal. That said, I really had a good time at the game. The atmosphere and the game were exhilarating.
—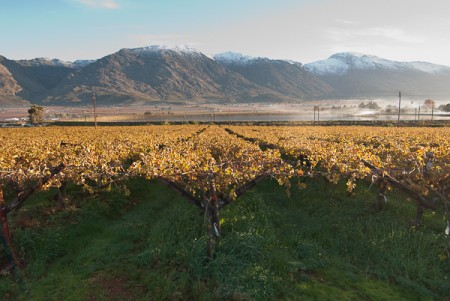 I drove up through the Karoo, the semi-arid interior of the country. It's a stark and beautiful area. It's cold at the moment; the snow on the mountains marks the first time I've seen it in the country.
It's a long drive, some fifteen and a half hours over two days. It's easy to forget that South Africa is this big.
—
I rode the brand new Gautrain yesterday just for fun. I like high speed rail. This never really had a chance to get up to full speed but it was still impressive.
—
Today I watched the Slovakia-Paraguay at a fan park in Newtown (pronounced as if it was two words) and went to the top of the Carlton Centre, the tallest building in Africa (but not tallest structure). The tower used to be prime property but is now in a fairly rundown area; on the other hand, Newtown seems to be in the middle of revitalization.
Leave a Reply