Here are little snippets of what's going on:
—
I've been biking around some in the last few weeks. I mostly go to the pool or shopping or to other things that aren't far but are far enough that I wouldn't walk. My knee and rest of my body is mostly okay with it so far.
—
I make it a habit of not talking about work here, but lecturing/ coaching is going just fine. There are some interesting possibilities for other work as well.
—
I've had weird sleeping habits lately, going to bed later than I intend and waking up at my relatively early alarm and turning it off.
—
I've played ultimate frisbee at UCT a few times; there's a pick up game on Fridays. It's good times. I'm still alright at it. Given that I haven't really played regularly since 2002 or thereabouts (though I did play a few times in 2006), I'm surprised how confident I am. I realized it's one of the few things when I perform better under pressure than otherwise.
—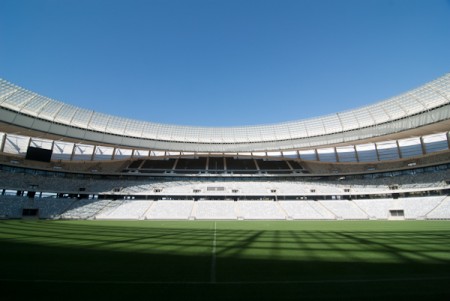 I took a tour of Cape Town Stadium on Tuesday. It was pretty cool. It's a well-designed stadium. I think going to games in it will be a pleasure.
I'll see next weekend as I'm going to see an Under 20 soccer tournament with Brazil vs Ghana and South Africa vs Nigeria with a few people. I'm looking forward to it.
—
This is the first year in a number that I didn't either give up something for Lent or avoid eating meat on Fridays during the forty days (or both). I guess with so much instability currently, I didn't really feel it. I'll get 'em next year.
—
It's a four day weekend here. It doesn't mean the same thing when I wasn't going to work (in the traditional sense) on Friday or Monday anyway.
—
I've started working on a memoir of my time at Boston Tech[1]. Progress has been slow. Very slow on some days, but others I'm inspired and write a fair amount. I've also thought of a book of stories from my travels, which would be fun.
—
My new flat isn't without its hiccups, but it's generally working out well. We had a house warming a few weeks ago that went well; a good time was had by all.
—
My favorite poster designer has a book out. I think I'll get it. Jason's stuff is great.
—
I'm tempted to get this old school US jersey for when I go see the US in the World Cup in just over three months time.
—
And finally. I went to a Stormers match last weekend. They're a Super 14 team representing the Western Cape. They were playing against another SA club, the Cheetahs—the team my aunt roots for, as it turns out. Stormers won, so that was good and it was a fun experience overall.
—
[1] I really want to make a shirt that says Boston Tech in the MIT font. Who's with me?